Starring: Nuvola Nera, Natalie Lopez, Lara Freddi, Donna d'Enrico, Gabriel One, Luk Baron, Francesco Malcom, Silvio Evangelista
Company: Valentino + Boss Film/Italy
Director: Vittoria Secret
These lucky men get hard as soon as they see the beautiful doctor that the military has hired for them. If all military docs looked like this then every man in the country would sign up for duty! Will you?
Studio: Valentino / Boss Film (2006)
Starring: Francesco Malcom, Silvio Evangelista, Donna D'Errico, Gabriel One, Luana Angel as Lara Freddi, Luk Baron, Natalie Lopez, Nuvola Nera
Language: Italian
All Sex, Etero, MILF, Mature, Group sex, Anal, DP, Tits, Oral, Cum shots, Straight,Stockings
720×544, 25 fps, H264 (*MP4), 1751 kbps
01:45:40
1434 MB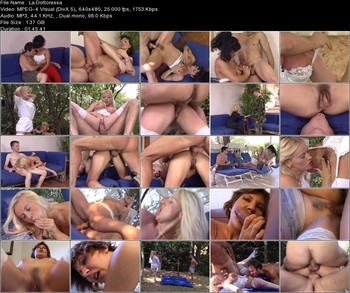 VIDOZA
RAPIDVIDEO
OPENLOAD
OPENLOAD
STREAMANGO…
STREAMCHERRY…
FLASHX…
11982 Views